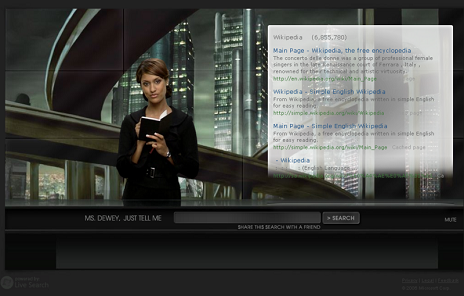 Microsoft
makes a lot of terrible products. But the new Microsoft search site,
Ms. Dewey
, tops them all. It's the worst Microsoft product ever.
This site is supposed to be a search engine. How many ways does it fail?
Ms. Dewey takes what seems to be an excruciating 15, 20 seconds to load. And this is before you get the "skip intro" option.


The contrast between the black background and the charcoal gray type is so minimal that you can't read a thing. That's probably just as well for Bill Gates, since one of the things you can't read is "© 2006, Microsoft Corp."


The search results are powered by Microsoft's Live Search. Supposedly Microsoft is letting Ms. Dewey get discovered "naturally" as a way of promoting Live Search. Let's just say that Google has nothing to fear.


I'll go further. The show is so annoying that you have to assume that this is Microsoft's way of covering up Live's lame search engine.


To the extent the search results have any value, you'll never find out. Just try to read them, let alone scroll down.


This exercise in coding is an inexcusably self-indulgent abuse of Macromedia Flash technology. There is a rather scandalous term for this. If you insist, you may consult Wikipedia or Urban Dictionary for the term. But don't say I didn't warn you.


Through the magic of linking, I'm referring Microsoft's abusive perpetuation of negative female stereotypes to Feminist Law Professors. Ann Bartow is going to have a field day with this.


The entire project has to be a blow to the acting career of Janina Gavankar, who has been compared to Jessica Alba. Ugh. More like Fallen Angel than Dark Angel.
Hat tip to Vincent Flanders' Web Pages That Suck, which named Ms. Dewey its "Daily Sucker" for November 16, 2006.